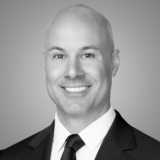 Jeffrey K. Ringdahl
Resolute Investment Managers
President & CEO
Jeffrey K. Ringdahl serves as President and Chief Operating Officer of Resolute Investment Managers. He also serves as president and COO of American Beacon Advisors, Vice President of American Beacon Funds, and holds additional senior leadership positions with other affiliated organizations.
Prior to joining American Beacon Advisors in 2010, Mr. Ringdahl spent six years with Western & Southern Financial Group, including three years as vice president of Product Management for the company's mutual fund subsidiary, Touchstone Investments.
Mr. Ringdahl's experience also includes investment and operational roles with Fidelity Investments and State Street Global Advisors.
Mr. Ringdahl received his B.A. in Economics from Boston University and an M.B.A. from the University of Notre Dame.