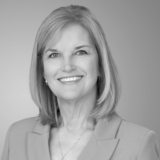 Rebecca L. Harris
Resolute Investment Managers
Senior Vice President, Product Management & Corporate Development
Rebecca L. Harris serves as Senior Vice President of Product Management and Corporate Development of Resolute Investment Managers. She also serves in the same role for an investment adviser affiliated with the company, as well as Vice President for another affiliated organization.
Since joining an affiliated organization in 1991, Ms. Harris has held other leadership roles, including those of chief financial officer from 1995 to 2010, mutual fund treasurer from 1995 to 2010, and director of Product Management from 2010 to 2015.
Prior to joining the company, Ms. Harris was a financial analyst at Sabre Travel Information Network in Southlake, Texas, from 1990 to 1991. She began her career at Arthur Young & Company (now Ernst & Young) in Dallas.
Ms. Harris received a B.B.A. from Texas A&M University. She is also licensed as a Certified Public Accountant in the State of Texas.